Landscaping Company in Peoria, AZ
As a leading landscape designer in Peoria, Arizona, we take immense pride in our ability to create breathtaking landscapes that reflect your unique vision and enhance your property's value. With years of experience and a dedicated team of professionals, we offer a full spectrum of landscaping services, from lush garden designs to exquisite hardscaping solutions and expert turf installation. Our mission is to bring your outdoor dreams to life, and we do it with the expertise and care that only true landscaping enthusiasts can offer.
Landscaping
Our landscape services are at the heart of what we do here at Landscape 20/20 LLC. We understand that a beautiful landscape is not just an accessory to your home; it's an extension of your lifestyle and a sanctuary for relaxation. That's why we pour our passion, creativity, and expertise into every landscaping project we undertake.
When you choose our team, you can expect a truly personalized experience. We take the time to sit down with you, listen to your ideas, and understand your vision for your outdoor space. From there, our team of skilled landscape designers will work their magic, combining your preferences with our knowledge and expertise to create a unique and functional landscape that's sure to impress.
Turf Installation
Over our decades of experience, we've completed numerous artificial turf installations. Many of our clients choose artificial turf for its year-round green appearance with minimal upkeep. The bulk of the work occurs during installation, leaving homeowners with the simple task of regular cleaning, particularly if they have pets. And since artificial turf doesn't demand the daily watering natural grass does, it's an eco-conscious way to conserve water while maintaining a lush and vibrant outdoor space.
When you choose us for your artificial turf installation, you benefit from our knowledge and skills. Our team understands the intricacies of the process, ensuring a flawless result. And while some may consider DIY projects to save on installation costs, the potential for errors and oversights can lead to costly corrections down the road. By entrusting us with your project, you not only ensure a seamless installation but also peace of mind, knowing that your artificial turf will perform optimally for years to come.
Hardscaping
Hardscaping is where functionality meets beauty in your outdoor space. It's the art of incorporating non-living elements into your landscape, such as patios, walkways, walls, and other structural features. We excel in hardscaping design and installation, making your outdoor area not only visually appealing but also highly functional.
Our skilled hardscape designers are experts in using a variety of materials, including pavers, natural stone, concrete, and more, to craft elegant and enduring features that complement your property's architecture and style. Whether you want to create a cozy outdoor living space, an inviting dining area, or an enchanting garden path, we've got the creativity and craftsmanship to bring your hardscaping dreams to life.
Why Choose Landscape 20/20 LLC?
Here at Landscape 20/20 LLC, we are driven by our passion for creating exceptional outdoor spaces that enrich the lives of our clients. What sets us apart as the premier landscape designer in Peoria, AZ, is our unwavering commitment to quality, customer satisfaction, and sustainable landscaping practices.
Unmatched Expertise: Our team consists of highly skilled professionals with extensive experience in landscape design, hardscaping, and turf installation. We stay up-to-date with the latest trends and innovations in the industry to ensure our clients receive the best service possible.
Personalized Approach: We understand that every property and client is unique. We take the time to understand your vision and tailor our services to meet your specific needs and preferences. Your dream landscape is our top priority.
Sustainable Solutions: We are committed to creating landscapes that are not only beautiful but also environmentally responsible. We incorporate eco-friendly practices in our designs to minimize water usage and reduce the ecological footprint of your outdoor space.
Quality Craftsmanship: We take pride in our attention to detail and the craftsmanship we bring to every project. From selecting the highest-quality materials to the precise installation of hardscape elements, we are dedicated to excellence.
Excellent Customer Service: We value open communication and transparency throughout the entire process. Our friendly and professional staff is here to address your questions and concerns, ensuring that you are satisfied with the results.
Frequently Asked Questions
How much does a landscape design project typically cost with Landscape 20/20 LLC?
The cost of a landscape design project can vary widely depending on the size of the area, the complexity of the design, and the materials used. We offer customized solutions to meet your specific needs and budget. We provide free consultations to discuss your project and provide a detailed estimate based on your requirements. Our goal is to create a landscape that fits your vision while staying within your budget.
How long does a typical landscape design and installation project take with Landscape 20/20 LLC?
The duration of a landscape project can vary depending on its complexity and size. Simple projects might take a few weeks, while larger and more intricate designs can take several months. During your initial consultation, we will provide you with a project timeline based on your specific requirements. Our team is dedicated to completing your project efficiently while maintaining the highest quality standards.
How does the design process work, and can I provide input into the design of my landscape project?
Our design process begins with a consultation where we listen to your ideas, preferences, and requirements. Your input is invaluable, and we encourage your active participation throughout the design process. We collaborate with you to create a customized design that aligns with your vision and objectives. You'll have the opportunity to review and approve the design before we move forward with the installation, ensuring that the final result meets your expectations.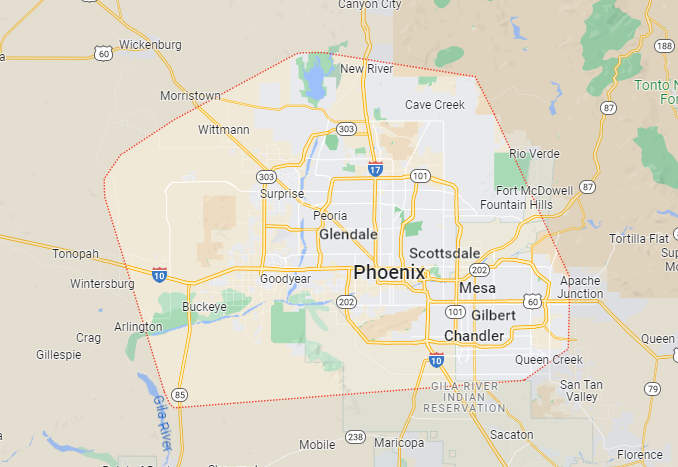 Map of Our Areas
At Landscape 20/20 LLC, we are proud to serve Peoria and its surrounding areas. Please refer to the map below for our service area.
Need a Landscaping Company?
Here at Landscape 20/20 LLC, we believe that a stunning landscape can enhance your quality of life and the value of your property. We are not just landscape designers; we are your partners in turning your outdoor dreams into reality. Whether you are looking for a serene garden, elegant hardscaping, or a vibrant green lawn, we have the expertise and creativity to make it happen.
If you're in Peoria, AZ, or the surrounding areas and are ready to elevate your outdoor space, contact us today! We're excited to work with you, and together, we'll create a landscape that you'll surely enjoy for years to come.