Landscaping Company in Surprise, AZ
Welcome to Landscape 20/20 LLC, where your landscape dreams become a vivid reality. In Surprise, the sunsets are breathtaking, and we believe your outdoor space should be equally spectacular. Our mission as a landscape designer is to transform your yard into an oasis of beauty and tranquility, a place where you can relax, entertain, and appreciate the natural surroundings.
Landscaping
Landscaping is at the heart of what we do. It's about blending your vision with the inherent beauty of Surprise and our expertise to create an outdoor paradise. Whether you have a blank canvas or need to revamp your existing landscape, our landscaping services have got you covered.
We take pride in our ability to create harmonious landscapes that complement your home's architecture, enhance curb appeal, and provide a sanctuary for your family. We use a combination of drought-resistant plants, vibrant flowers, and meticulous hardscape elements to achieve a balanced and inviting design. The result? A picturesque yard that beckons you outdoors.
We work diligently to ensure that your landscape not only looks magnificent but is also functional. Whether you want a space for gardening, play, or relaxation, we'll make sure your landscape is tailored to your specific needs. From creating cozy fire pits for those cool desert nights to elegant pathways guiding you through your garden, we make sure every aspect is designed with care and purpose!
Turf Installation
In the desert landscape of Surprise, maintaining a lush green lawn can be a challenge. That's where our turf installation expertise comes into play. We understand the value of a vibrant lawn, and we've developed innovative solutions to bring a touch of green to your outdoor space.
We offer a range of artificial turf options, each carefully selected for its quality, aesthetics, and suitability for the Arizona climate. Our artificial grass not only looks and feels like the real thing but also saves you time, money, and water in the long run. With our turf installation services, you can enjoy a consistently green lawn without the hassle of constant maintenance.
Hardscaping
In the arid climate of Surprise, hardscaping is more than just a decorative addition; it's a critical element in maintaining a well-balanced outdoor space. Here at Landscape 20/20 LLC, we understand the significance of hardscape design and excel in creating functional, attractive, and enduring features.
Our team of skilled hardscapers utilizes natural stone, pavers, and other high-quality materials to craft stunning hardscape elements that seamlessly blend with the natural beauty of the surroundings. From elegant walkways and driveways to captivating patios and retaining walls, we've mastered the art of enhancing outdoor areas.
In addition to the practical aspects, our hardscape designs also accentuate the natural beauty of your landscape. The interplay of stone textures, colors, and patterns adds an artistic touch that elevates your outdoor environment to a new level of elegance. Whether it's a flagstone pathway leading to your garden retreat or a charming seating area beneath a pergola, our hardscape designs will leave you and your guests in awe.
Frequently Asked Questions
What is the typical timeline for a landscaping project, from design to completion?
The timeline for a landscaping project can vary depending on the scope and complexity of the project. Generally, a smaller project might take a few weeks, while larger and more intricate designs could take a few months. The process typically involves an initial consultation, design development, client approval, obtaining necessary permits (if applicable), and then the construction phase. Our team works efficiently to complete projects in a timely manner without compromising on quality.
What sets Landscape 20/20 LLC apart from other landscaping companies in Surprise, AZ?
First and foremost, we have a deep understanding of the unique challenges and beauty of the Surprise environment. Our commitment to using native plants, our craftsmanship in hardscape design, and our innovative approaches to turf installation make us a trusted choice for local residents. We also prioritize personalized designs, excellent customer service, and the use of high-quality materials to create landscapes that are both visually stunning and sustainable.
Can you accommodate my budget for a landscaping project?
Yes, we understand that every client has a unique budget for their landscaping project. We work closely with our clients to create designs and plans that align with their financial requirements while still delivering a beautiful landscape. Our team can provide various options, suggest cost-effective materials, and help you make informed decisions to ensure your project stays within budget without sacrificing quality or design integrity.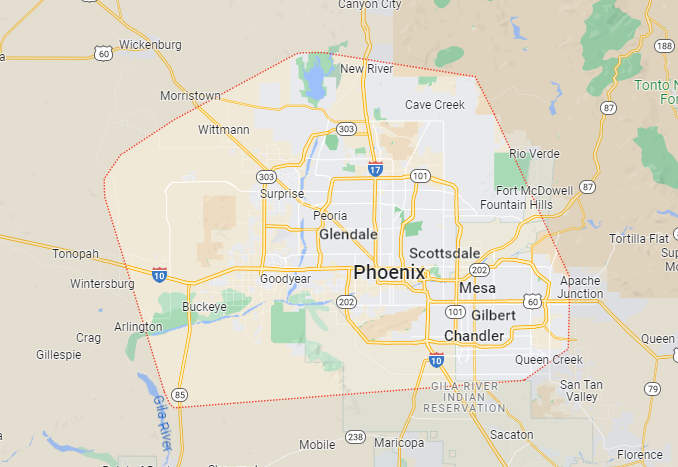 Map of Our Areas
At Landscape 20/20 LLC, we are proud to serve Surprise and its surrounding areas. Please refer to the map below for our service area.
Need a Landscaping Company?
Here at Landscape 20/20 LLC, we take great pride in our commitment to providing top-notch landscape, hardscape, and turf installation services to the residents of Surprise, AZ. We're dedicated to creating outdoor spaces that not only meet your needs but also reflect the unique beauty of the desert surroundings.
Whether you desire a stunning garden filled with native flora, a hardscape masterpiece, or a lush green lawn, our team strives to be your trusted partner in transforming your outdoor dreams into reality. Let's embark on this exciting journey together, bringing your vision to life and making your yard the envy of the neighborhood. Contact us today, and let's make your landscape vision a reality!